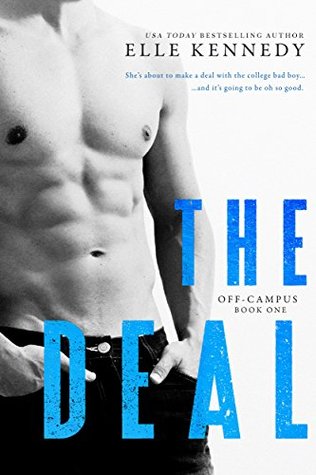 She's about to make a deal with the college bad boy...
Hannah Wells has finally found someone who turns her on. But while she might be
confident in every other area of her life, she's carting around a full set of baggage when it comes to sex and seduction. If she wants to get her crush's attention, she'll have to step out of her comfort zone and make him take notice...even if it means tutoring the annoying, childish, cocky captain of the hockey team in exchange for a pretend date.
...and it's going to be oh so good
All Garrett Graham has ever wanted is to play professional hockey after graduation, but his plummeting GPA is threatening everything he's worked so hard for. If helping a sarcastic brunette make another guy jealous will help him secure his position on the team, he's all for it. But when one unexpected kiss leads to the wildest sex of both their lives, it doesn't take long for Garrett to realize that pretend isn't going to cut it. Now he just has to convince Hannah that the man she wants looks a lot like him
My Opinion
Hannah has a crush on Justin a football player, Justin doesn't know her from Adam. Garrett is failing a class which he has to pass to play hockey. He notices that Hannah got an A on the midterm and decided to see if she would tutor him. She says no repeatedly. He is persistent and notices her checking out Justin. This has him thinking, hey how about tutoring me so other guys will notice you. Only he doesn't expect to fall for her.
Hannah is a smart gal who has talent- musical talent. She knows that Garrett is a player and calls him out on it quite a bit. She is always extremely hard working and well just down to earth. She pretty much is everything that Garrett needs in a gal, he just doesn't know it. She kidna needs him in her life as well, she just doesn't see it.
Garrett is Garrett, yeah, I know how that sounds. He is observant, a player, a hockey player, and a guy. One who knows what he wants and how to get it. Hannah though is not making it easy for him. He pretty much has no mind mouth filter and I adore him for it. He does know when he is skating on thin ice though. Best part about Garrett though is when he is giving Hannah pick up advice- as in how to pick up a guy. Hilarious.
The Deal is an adorable New Adult romance. I tend to have a hate hate relationship with New Adult novels. Yet there is something about how this one is written that made me go and one-click the next book in the series. Both characters have issues that we normally gloss over, here there is no glossing. So yeah, if you haven't already pick this one up. I promise you will not regret it.
My Rating
4 out of 5 stars

Favorite Quote

"Sometimes people sneak up on you and suddenly you don't know how you ever lived without them."
Other People
Allie- roomie and bestie
Logan- Garrett's bestie and roommate
Kendall- Garrett's ex fling
Cass- Hannah's duet partner