Format e-ARC
Print Length 366 pages
Publisher Entangled Teen
Published May 16, 2017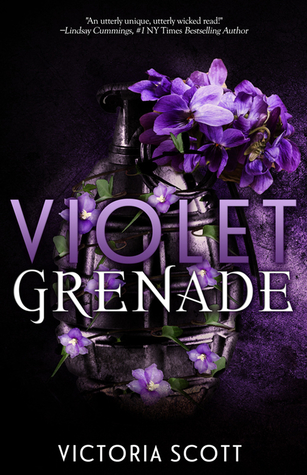 Domino: A runaway with blood on her hands.
Cain: A silent boy about to explode.
Madam Karina: A woman who demands obedience.
Wilson: The one who will destroy them all.
When Madam Karina discovers Domino in an alleyway, she offers her a position at her girls' home in secluded West Texas. With no alternatives and an agenda of her own, Domino accepts. It isn't long before she is fighting her way up the ranks to gain the madam's approval…and falling for Cain, the mysterious boy living in the basement.
But the madam has horrible secrets. So do the girls in the house. So does Cain.
Escaping is harder than Domino expects, though, because the madam doesn't like to lose inventory. But then, Madam Karina doesn't know about the danger living inside Domino's mind.
Madam Karina doesn't know about Wilson.
My Opinion
I am a huge Victoria Scott fan, so of course when I got this book I started it the first day. After the first three chapters I put it down and walked away. I forced myself to pick it up three more times before I finally finished it. It is unlike anything she has written before and that may be where my disconnect was. I could not connect with any of the characters, Domino, Cain, Poppet, Angie, Madam Karina all of them were just people in passing.
Domino is a girl who is use to surviving. Be it on the streets or in Madam Karina's House for Burgeoning Entertainers. She realizes quickly that she would need to rise up in the ranks at the house in order to make money. She also realizes that the girls on each level come with their own brand of evilness. With her trusted sidekick Poppet, she takes them all on.
Cain has a past full of sorrow. He recognizes in Domino a kindred spirit. He does not realize just how messed up the situation is until they make a break for it. That is when the crazy hits the fan. The fact that he does not pull Domino away from the crazy but instead embraces it is also a bit on the demented side.
Madam Karina's House for Burgeoning Entertainers is an place where evil resides. How will these teens ever escape? Will Domino have to let Wilson out? What happens when she does? If you enjoy dark thrillers this may be the book for you.
My Rating

3 out of 5 stars
Favorite Quote
My problem is I can't handle being crushed when people aren't what they pretend to be.
Other People
Poppet- Domino's bestie
Angie- ally of a sorts