Author
Renee Ahdieh
Publisher
G.P. Putnam's Sons Books for Young Readers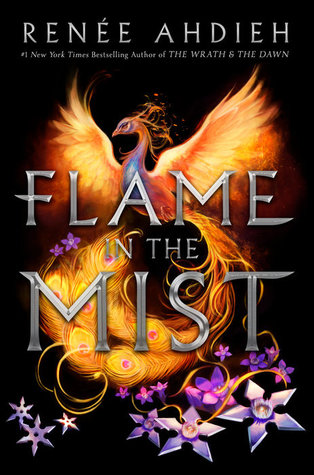 The only daughter of a prominent samurai, Mariko has always known she'd been raised for one purpose and one purpose only: to marry. Never mind her cunning, which rivals that of her twin brother, Kenshin, or her skills as an accomplished alchemist. Since Mariko was not born a boy, her fate was sealed the moment she drew her first breath.
So, at just seventeen years old, Mariko is sent to the imperial palace to meet her betrothed, a man she did not choose, for the very first time. But the journey is cut short when Mariko's convoy is viciously attacked by the Black Clan, a dangerous group of bandits who've been hired to kill Mariko before she reaches the palace.
The lone survivor, Mariko narrowly escapes to the woods, where she plots her revenge. Dressed as a peasant boy, she sets out to infiltrate the Black Clan and hunt down those responsible for the target on her back. Once she's within their ranks, though, Mariko finds for the first time she's appreciated for her intellect and abilities. She even finds herself falling in love—a love that will force her to question everything she's ever known about her family, her purpose, and her deepest desires.
My Opinion
Mariko was on her way to her betrothed when her convoy was attacked. She is the sole survivor. Finally, she has options about her life- return to her beloved family, head toward her betrothed or figure out why someone wanted her dead. Who ordered the hit? To do this she must become a member of the Black Clan. The leader Takeda Ranmaru and his best friend Okami are descendants from disgraced samurai. Once she infiltrates the Black clan she realizes theirs is a just cause. Her brother and Riaden are still looking for her. Will they destroy her new home to take back what they deem is theirs.
Mariko grew up a sheltered daughter among the ruling daimyo class. She understands her purpose in life. To marry well for the honor of her family. A purpose she resents. Dreaming instead of inventions she could make that would benefit of her people. Throughout the book you witness her grow, adapt, and what a wonderful journey it was.
If you like hate to love relationships then this is the one for you. Mariko believes the Black Clan is trying to kill her, Ranmaru and Okami believe she is a weak boy. It is only once Okami realizes that she is girl that romance occurs but when it does holy Japanese warlords it is intense.
Flame In The Mist brings feudal japan to life in the most dramatic of ways. It also pulled me out of a devastating reading slump. The ending leaves you wanting more. More of Mariko, more of Okami even more of Kenshin. There are questions still to be answered and new ones that popped up. Most importantly the reader is left wondering when the next book will be released.
My Rating
5 out of 5 stars
Favorite Quote
"Always. In all ways."
Other People
Kenshin- Mariko's twin brother, Dragon of Kai
Raiden- Mariko's betrothed
Ranmaru- leader of the Black Clan
Yoshi- mentor to the Black Clan