Author Amanda Bouchet
Format e-ARC
Print Length 448 pages
Publisher Sourcebooks Casalanca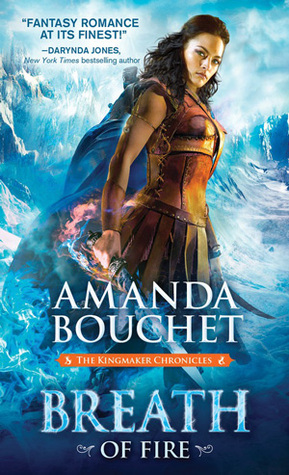 Published Jan. 3, 2017
SHE'S DESTINED TO DESTROY THE WORLD...
"Cat" Catalia Fisa has been running from her destiny since she could crawl. But now, her newfound loved ones are caught between the shadow of Cat's tortured past and the threat of her world-shattering future. So what's a girl to do when she knows it's her fate to be the harbinger of doom? Everything in her power.
BUT NOT IF SHE CAN HELP IT
Griffin knows Cat is destined to change the world-for the better. As the realms are descending into all-out war, Cat and Griffin must embrace their fate together. Gods willing, they will emerge side-by-side in the heart of their future kingdom...or not at all.
My Opinion
Thank you to Sourcebooks Casablanca and Netgalley for allowing me to review this novel. This in no way influenced my review.
Two fantasy series captured my attention and imagination this year. Kingmaker Chronicles being one of them. After A Promise of Fire, I was dying to get my hands on a Breath of Fire. Doubts entered my mind, it is the second book in the series. It is the sophomore book for the author, will it beat the curse? Why oh why is it going to take a year to get my hands on this book? I finally get to open before release date only during the holidays (oh no, I have to put it down). Even when I was emerged in the festivities my mind would wonder to what Griffin and Cat were up to. Several times I had sneak in a chapter or two- this was way difficult as the Hubby's side of the family is 27 people deep (yes that is only his siblings, their children and his parents). I can say without a doubt that Cat and Griffin slayed the sophomore curse.
In A Promise of Fire, Cat and Griffin's love was a simmering fire, slowly working its way to a steady burn. In Breath of Fire, it is a roaring fire that at times got out of control. Griffin has trouble controlling his emotions where Cat is concerned. Cat has trouble trusting in fate, the gods and love. Who can blame her, especially with how she grew up. Cat is still as fierce as ever in this book, it is Griffin that shows restraint. Not only for when Cat is in danger but also with Jocasta- his little sister. He understands that both woman need the freedom to decide the best course of action for them. He also gets that both woman have to protect the people they love. This made him ten times hotter in my book.
The tasks that they are about to embark on due to the Power Bid in play put them and all they love in danger. The journey through the Ice Plains, the Chaos Wizzard, what Kato has to do, even the Ipotane (think Centaurs on steroids), and the Agon Games will capture your imagination. The book is written with such detail that it is as if a movie plays as you frantically read the words on the page. This is one that is difficult to put down as each chapter is a new adrenaline rush.
There is more story for the other members of the Beta Team all of which have become part of Cat's family. Kato is always the first to deliver, and the first to understand where Cat is coming from. Will he ever find love, or will he always just be a pretty face. Carver's story in particular is heartbreaking and yet Jocasta his little sister stated something that made me think that there is even more there. What is it though? Speaking of Jocasta, her and Flynn need to figure things out and sooner rather than later.
After finishing this epic read, I of course looked online for when the next one releases. Heart on Fire is set to release in the fall of 2017, which is way too far away. I don't know who I am more excited to read about Cat and Griffin's journey to reunite the kingdom or the Beta's team response to love. Regardless it is nice to see Greek mythology sprinkled through the series. The best part being that the gods/goddess are not jerks as of yet. Breath of Fire is an epic tale of love, power, and doing what is right for all of humankind.
My Rating
5 out of 5 stars
Favorite Quote
"Unexpected mercy, romance, mystery….They appeal to even the most fickle and violent of hearts."
Other People
Kato- member of Griffin's team
Flynn- member of Griffin's team
Carver- Griffin's brother, part of his team
Jocasta- Griffin's sister